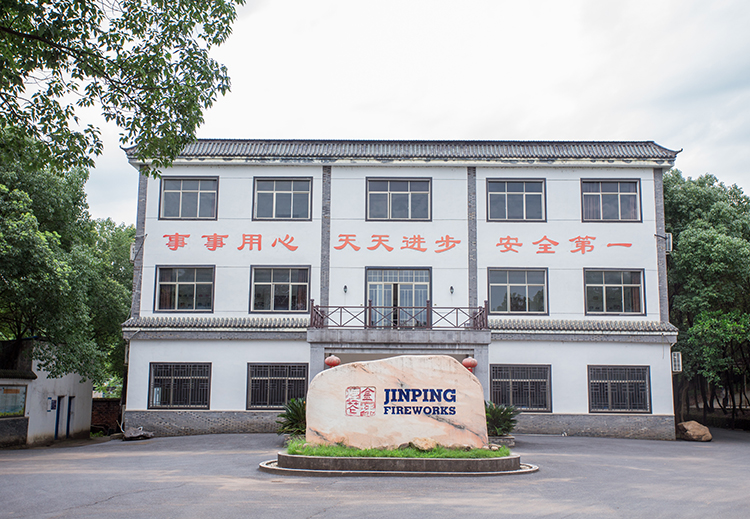 Pingxiang JinPing Fireworks Manufacturing Co., LTD
The predecessor of Pingxiang Jinping Fireworks Manufacturing Co., Ltd. was the "Tongmu Export Fireworks Factory" established in 1968. The Tongmu Export Fireworks Factory started its business from a workshop, and after more than 50 years of steady development, it has gradually developed into a well-know fireworks manufacture, which is one of the biggest exporting fireworks supliers in China.
At present, the company's factory area has reached more than 666,666 m2. As an excellent enterprise in the production of fireworks in China, the company has more than 600 employees, including more than 30 technicians. 
COMPANY BUSINESS SITUATION
The company can offer more than 3,000 varieties of firework items: display shells, cakes, combination fireworks, roman candles, anti bird shells etc., Each year, more than 500,000 cartons of fireworks are exported to markets of European , USA, South America, South-East Asia, Africa, and Middle East. The clients are satisfied with our fireworks products, because of the various and attractive effects, competitive price and stable high quality.
Today,with more than 666,666 m2 of production area, and more than 600 employees , including more than 30 technicians , the company has grown into one of the largest and most advanced fireworks manufacture in China. The professional and effective team is offering the best service to our clients around the world.
The company has the strogest technicl team , with more than 30 technicians , including including 4 senior engineers and 6 intermediate engineers. More than 100 new products are developed every year.
At the same time, the company's products have won many foreign fireworks show awards, and it is the designated supplier of fireworks for the National Day and New Year celebrations in the United States, Japan, France, Spain, Italy.
In December 2001, it was officially renamed "Pingxiang Jinping Fireworks Manufacturing Co., Ltd.".
Won the Shangli County Mayor Quality Award in 2017 and the Pingxiang Mayor Quality Award in 2018.
In 2019, the company paid more than 17 million yuan in taxes, and the company's cumulative tax payment has exceeded 100 million yuan.
The company's technical level and quality control system is at the leading level in the industry